Many years ago, before the birth of Buddha, the Khmer people of Burma built temples to Tsun Kyan-Kse. This Goddess is said to have had blue eyes and presided over the journey of the souls, and blessed the temple priests to re-live in the body of the Birman cat. One such temple is said to have contained a dazzling solid gold statue of the Goddess, has been constructed along a flank of Mount Lugh. The priests of the temple kept one hundred pure white cats to guard the temple. The elderly head priest, Mun-Ha, had a cat named Sinh.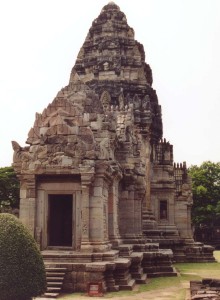 Legend goes, one night, Phoums from Siam attacked the temple overwhelming the Kittahs, and killing the priest Mun-Ha. As he sat dying in his golden throne, Sinh leapt onto his head, and, as he sat rigid before the statue of the Goddess, a miracle transpired. His appearance was transformed to one of immense exquisiteness. His impeccable white coat became creamy and golden tinted, his ears, nose, tail and legs became dark, like the colour of the earth, but left his paws white, and his eyes glowed the same sapphire as the Goddess. He then stared at the south door. The priests, acting upon his direct look, rushed to close the heavy bronze doors.
Eventually, temple was devoid of invaders once more. Sinh, however, stayed upon Mun-Ha's head for the next seven days with neither food nor water, before, facing the Goddess, he died – carrying Mun-Ha's soul to Tsun Kyan-Kse… and when, Seven days later, the amassed priests consulted the statue on the succession of Mun-Ha, the remaining ninety-nine cats of the temple ran up, all of which had been transformed like Sinh, surrounded the youngest of the priests. Therefore, the reincarnated ancestors were chosen by the Goddess's heavenly spirit.
The legend also dictates that when a priest died, his soul was channelled into the body of a cat and upon the cat's death the priest's soul had entered heaven– although, according to Major Russell Gordon, "But woe also to he who brings about the end of one of these marvellous beasts, even if he did not mean to. He will suffer the most cruel torments until the soul he has upset has been appeased."
The legend fails to explain the genuine, scientific derivation of these cats, and the mystery surrounding their initial background will probably never be revealed.
From Wikipedia